Fly me to the moon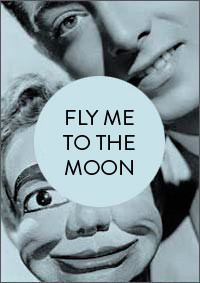 FLY ME TO THE MOON
Marc Angelet

Institut del Teatre, 2013



Sinopsi
(Obra de teatre basada en fets reals)
Dennis Hope era un ventríloc acabat. Una nit de 1980 mentre conduïa el seu cotxe va tenir una revelació: «Vaig veure la Luna, i em vaig dir: "Aquí hi ha moltes propietats en potència"». En l'actualitat Dennis Hope ha venut parcel·les lunars a persones de tot el món, i la seva fortuna es calcula en 50 milions de dòlars. Fly me to the moon, és un diàleg entre el ventríloc i el seu ninot.
(Obra teatral basada en hechos reales)
Dennis Hope era un ventrílocuo acabado. Una noche del1980 mientras conducía su coche tuvo una revelación: « Vi la Luna, y me dije : " Aquí hay muchas propiedades en potencia " ». En la actualidad Dennis Hope ha vendido parcelas lunares personas de todo el mundo, y su fortuna se calcula en 50 millones de dólares. Fly me to the Moon, es un diálogo entre el ventrílocuo y su muñeco.

(Play based on real events)
Dennis Hope was a finished ventriloquist. One night in 1980 while he was driving his car he had a revelation: « I saw the Moon, and I told myself: "Here are many potential properties" ». Nowadays, Dennis Hope has sold moon plots to people all around the world, and his fortune is estimated to be of 50 million dollars.  Fly me to the Moon is a dialog between the ventriloquist and his puppet.
Text
EL NINOT O LA LLUNA de Marc Angelet (Versió en català)
EL_NINOT_O_LA_LLUNAmarc_angelet_cat.pdf
Documento Adobe Acrobat
346.3 KB
Fotos