Trau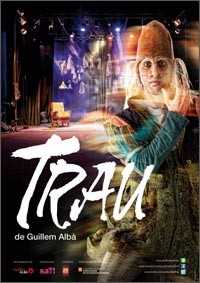 TRAU
De Guillem Albà
AJUDANT DE DIRECCIÓ / AYUDANTE / ASSSISTANT

Cia. Guillem Albà
Fira de Teatre de Tàrrega, 2012
Almeria Teatre, 2012
Teatre Lliure, 2015
Sinopsi
Un estrany personatge guarda tot el que viu. Envasa i emmagatzema tots els moments viscuts  abans que arribin al final. Moments inacabats. 

Un extraño personaje guarda todo lo que vive. Envasa y almacena todos los momentos vividos antes de que lleguen al final. Momentos inacabados.

A strange character keeps everything alive. He packages and stores all the moments before they reach the end. Unfinished moments.

Fotos
Video